Tommy's Organic Incredible Gainer French Vanilla
FLAVOUR – French Vanilla
SERVINGS – 1kg – 11 Servings
2.7kg – 30 Servings
+ NATURAL + ORGANIC + VEGAN + DAIRY FREE
+ GMO FREE + SOY FREE + REFINED SUGAR FREE
Tommy's Organic Incredible Gainer is a pure and natural, organic plant-based protein powder made with the highest quality ingredients. A protein blend of raw, isolated, sprouted and fermented yellow pea and brown rice protein, combined with Australian grown organic oat flour and deliciously flavoured with a hint of vanilla.
Weight and muscle gain should be achieved in the most natural and healthy way possible, and Tommy's Gainer is ideal for those who want to gain weight and increase energy, as well as, boost muscle gains and accelerate recovery for optimal results. It is east to digest, and the perfect supplement for adding additional calories, protein and carbohydrates.
Containing 29.6 grams of protein per serving and all 9 essential amino acids, you will enjoy Tommy's Organic Gainer not only for its health benefits, but it has a smooth texture, subtle sweetness, and delicious vanilla flavour that you will love.
We pride our products on being completely natural and free from anything artificial, so you and your family can enjoy this every day with peace of mind that you're looking after your body, the only place you have to live.
BENEFITS assist with –
Weight Management
Digestion and Gut Health
Energy & Vitality
Lean Muscle Growth
Recovery After Exercise
Reduced Sugar and Junk Food Cravings
Overall Health & Well-Being
Healthy Meal Replacement or In-between Snack
SERVING SUGGESTION –
Add 2 1/2 scoops into 400ml water or plant-based milk and shake until well combined. It makes the perfect addition to your morning smoothie, breakfast bowl, oats, yoghurt, pancakes and many health treats to balance nutrition.
We recommend consuming Tommy's Organic Incredible Gainer for breakfast, lunch or dinner as a meal replacement OR in-between meals as a snack OR after exercise to assist with muscle growth and recovery.
INGREDIENTS:
Organic Oat Flour, Organic Sprouted Brown Rice Protein, Organic Sprouted Fermented Pea Protein, Natural Vanilla Flavour*, Organic Stevia (*denotes non-organic ingredient)

Product contains GLUTEN
Keep well sealed and store in a cool, dry place away from direct sunlight
** This product is not to be used as a sole source of nutrition. We highly recommend our products to be consumed in conjunction with nutritious and well-balanced meals and appropriate exercise**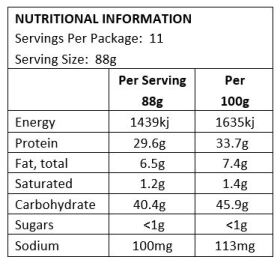 Returns and Refunds
We do not offer a refund, replacement or exchange if you change your mind about a product or products you have purchased from SUPER discount supplements, so please choose what you wish to order carefully and make sure what you purchase is exactly what you need. If you are unhappy with the flavour of a product you have purchased we do not offer a refund or exchange.