KETO SWITCH

by Switch Nutrition 200 G
DESCRIPTION :
Switch Nutrition, Weight Management and Fat loss, Anti-ageing, Brain and Memory, Post workout recovery, pre-workout, energy
KETO SWITCH™ contains goBHB™ (Beta Hydroxybutyrate) which is designed to SWITCH ON Ketosis. In a state of ketosis your body burns more fat, increases energy, enhances brain function, lowers inflammation, controls blood sugar, improves insulin sensitivity and fights food cravings.

KETO SWITCH™ combines a precise blend of ketogenic amino acids, Vana™ Sana C-8 MCT oil (Medium Chain Triglycerides) , Acetyl L-Carnitine, goBHB™ and critical Co-Factors to power your fat burning, energy and performance.
KETO SWITCH™ contains ZERO artificial colours or sweeteners.
SWITCH your body into ketosis and feel the cognitive enhancing and fat burning benefits with the help of KETO SWITCH™.
DIRECTION:
Consume one (1) serving of KETO SWITCH™ in 500 ml (17 oz) of water prior to exercise, during fasting or whenever you need a healthy boost.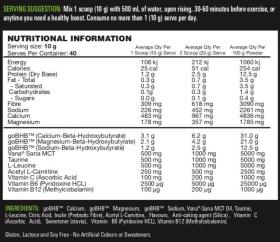 Returns and Refunds
We do not offer a refund, replacement or exchange if you change your mind about a product or products you have purchased from SUPER discount supplements, so please choose what you wish to order carefully and make sure what you purchase is exactly what you need. If you are unhappy with the flavour of a product you have purchased we do not offer a refund or exchange.