Switch Nutrition Amino Switch
AMINO SWITCH™ is a highly absorbed Vegan Friendly dairy and lactose free Branched Chain Amino Acid (BCAA) & Essential Amino Acid (EAA).
Unlike most BCAA`s AMINO SWITCH™ contains all 9 EAA's at the Perfect Muscle Ratio. This ratio is designed to help SWITCH ON nutrient recovery.
EAA`s are absorbed considerably faster and more efficiently than whey protein because they don`t require digestion.
At SWITCH NUTRITION™, we use a specific EAA ratio to maximise results for sports and exercise recovery.
AMINO SWITCH™ is naturally sweetened with stevia and is also...
No added GLUTEN
No added LACTOSE
SOY FREE
DAIRY FREE
NO ADDED SUGAR
KETO FRIENDLY
VEGAN FRIENDLY
100% OPEN LABEL
100% AUSTRALIAN MADE
MANUFACTURED IN A GMP & HACCP CERTIFIED FACILITY
AMINO SWITCH™ contains added essential Co-Factors, Balanced Electrolytes, Vitamins and Schisandra chinensis for greater overall results.
The above information is merely a guide and is NOT a recommendation or a treatment protocol for any health conditions or diseases. You should always consult with a qualified health care provider before changing your supplement, training or nutritional strategy. Supplementation should not be attempted by pregnant or breastfeeding women, anyone on prescription medication or children under the age of 15 unless advised by your qualified health care provider.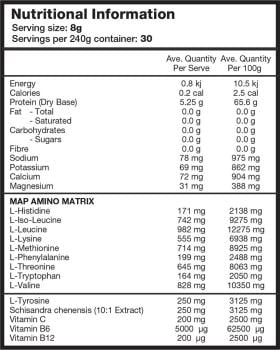 Returns and Refunds
We do not offer a refund, replacement or exchange if you change your mind about a product or products you have purchased from SUPER discount supplements, so please choose what you wish to order carefully and make sure what you purchase is exactly what you need. If you are unhappy with the flavour of a product you have purchased we do not offer a refund or exchange.