Switch Nutrition Amino Switch
AMINO SWITCH is a highly absorbed dairy and lactose free Essential Amino Acid (EAA) supplement.
Unlike most BCAA`s AMINO SWITCH contains all 9 EAA's at the Perfect Human Ratio. This ratio is designed to help SWITCH ON muscle recovery and SWITCH OFF muscle breakdown.
EAA`s are clinically proven to absorb 5x better than whey protein and boost muscle recovery 50% more than BCAA`s.
Directions
CONSUME ONE TO THREE (1-3) SERVINGS OF AMINO SWITCH™ BEFORE, DURING AND AFTER EXERCISE. EACH SERVING OF AMINO SWITCH™ SHOULD BE MIXED IN 500 – 700ML (17 – 23OZ) OF WATER.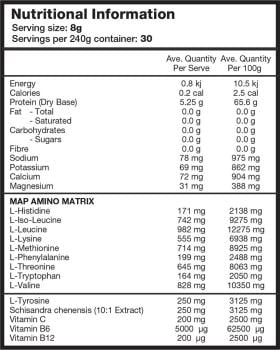 Returns and Refunds
We do not offer a refund, replacement or exchange if you change your mind about a product or products you have purchased from SUPER discount supplements, so please choose what you wish to order carefully and make sure what you purchase is exactly what you need. If you are unhappy with the flavour of a product you have purchased we do not offer a refund or exchange.