Primal Energy - Grass-Fed Beef Liver Powder
DESCRIPTION
Primal Energy freeze-dried beef liver offers one of the most treasured organs from pastured raised Tasmanian cattle in one convenient capsule. Beef liver is extremely nutritious and contains B12, Vitamin A, heme iron and folate to support your daily energy demands.
Beef Liver Naturally Helps To:
Reduce Tiredness & Fatigue
Assist Healthy Iron Metabolism
Supports Immune Function
Hair, Skin & Eye Health
Mental Clarity
Overall Wellbeing
Key Nutrients in Liver:
Fat soluble vitamins (A, D, E & K)
B-group vitamins (including B12)
Bio-Available Iron
Folate
Choline
Hyaluronic Acid
Trace minerals including copper, zinc and chromium
Primal Energy Features:
100% Grass-Fed & Grass Finished
Australian Sourced Tasmanian Cattle
100% Halal friendly
Pure Nose to Tail Nourishment
Freeze-Dried to Preserve Nutrients
100% Hormone, Antibiotic & GMO Free
INGREDIENTS
100% Organic Australian Beef Liver
SERVING SUGGESTION
Mix 3g (1 teaspoon) with your favourite yogurt or smoothie, alternatively sprinkle onto food when cooking.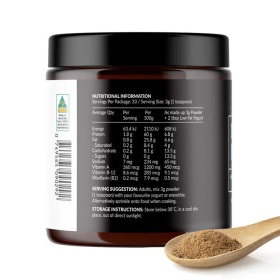 Returns and Refunds
We do not offer a refund, replacement or exchange if you change your mind about a product or products you have purchased from SUPER discount supplements, so please choose what you wish to order carefully and make sure what you purchase is exactly what you need. If you are unhappy with the flavour of a product you have purchased we do not offer a refund or exchange.