Redcon1 Total War Pre Workout
Total War, the pre workout all others wishe they were, this powerful combination of stimulants and nootropics along with N.O. compounds makes Total War an all-in-one pre workout supplement. Enjoy the most energy, focus, and skin splitting pumps you've ever felt during a workout. You won't want to go home at 30 or 40 minutes, but instead somebody will need to pull you out of the gym. Total War is not for the faint of heart, but for the serious athlete or gym goer who expects to perform at the highest level of readiness when called upon.

Key Points

Energy & Strength

Intensity

Mental Focus And Tunnel Vision

Huge Pumps And Vascularity

Increases Motivation

Ingredients

Citrulline Malate - NO booster
Beta-Alanine - shuttles away lactic acid build up
Agmatine Sulfate - No extender
Taurine - pump/hydration aid
Caffeine Anhydrous - improves focus, alertness, mood and athletic performance
N-phenethyl Dimethylamine Citrate - euphoric sensations
2 Aminoisoheptaine - wild ride stimulant - DMAA replacement aka DMHA - increases dopamine and norepinephrine which results in greater energy without being overstimmed
Tehobroma cacao extract (seed) - caffeine`s little brother - smooth, long lasting energy
Higenamine HCL - increased heart rate and release of adrenaline
Bioperine Black Petter Fruit Extract - enhances bioavailability and absorption of other ingredients
Rauwolscine aka alpha-yohimbine - POWERFUL STIM! 5mg - helps prevent fat storage in the body

Other ingredients include, Disodium phosphate, sucralose, acesulfame-k, maltodextrin, silica.

Directions

Test your tolerance by taking 1/2 scoop prior to training. Once your tolerance is assessed mix 1 scoop with 200ml of water 30 minutes prior to training.

Warnings

Do not exceed 2 scoops in a 24 hour period. Store in a cool dry place under 30deg C. Keep out of reach of children.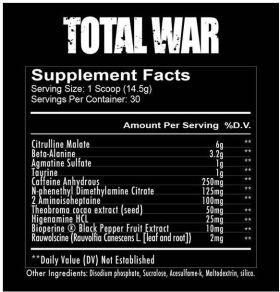 Returns and Refunds
We do not offer a refund, replacement or exchange if you change your mind about a product or products you have purchased from SUPER discount supplements, so please choose what you wish to order carefully and make sure what you purchase is exactly what you need. If you are unhappy with the flavour of a product you have purchased we do not offer a refund or exchange.