Herbs of Gold Collagen Gold
Herbs of Gold Collagen Gold provides a high quality source of marine collagen from Aroma New Zealand (NZ), combined with a special superfood blend, for maintaining strong Healthy Hair, Skin, Nails and Joints.
Collagen is the body`s most abundant protein, representing approximately 30% of total body protein. Collagen is a major structural component of connective tissue found in the body; in skin, hair, nails, ligaments, tendons, cartilage, teeth and bone. Collagen provides tensile strength and firmness to connective tissues around the body.
Marine collagen is sourced from wild-harvested deep sea fish supplied by Aroma (NZ). Aroma NZ marine collagen is tested by independent, accredited laboratories and is licenced by the New Zealand Food Safety Authority which complies with Good Manufacturing Practices (GMP). Aroma NZ provides complete traceability of raw materials as part of their quality assurance system, right through to the finished product.
Aroma NZ marine collagen is rich in essential and non-essential amino acids and contains a minimum of 90% protein from marine collagen and 8% hydroxyproline (responsible for collagen stability) in each serve. Collagen Gold contains type I collagen, the most abundant collagen type found in the body; predominantly found in the skin, tendons, ligaments and bone.
A specially selected superfood blend containing Yangmei (Yumberry), Pomegranate, Acai and Acerola berries provides a rich source of natural Vitamin C for antioxidant protection and is essential in a number of steps for collagen production and helping to prevent the breakdown of collagen. Guava provides natural zinc, important for protein synthesis and skin structure.
Collagen Gold helps to promote collagen production and replenishes lost or declining levels of collagen, slowing down visible signs of ageing including fine lines, wrinkles, sagging skin, and helps to stabilise and strengthen joints by preventing collagen breakdown.
Ingredients
Superfood blend (42.2%) (Yangmei juice powder, Pomegranate juice powder, Acai berry juice powder, Acerola berry extract, Guava leaf extract), Maltodextrin, Marine Collagen Powder (10%), Silicon Dioxide, Natural Strawberry flavour, Citric Acid, Beetroot Powder, Natural Sweetener (Thaumatin).
Certified organic Marine Collagen is derived from fish.
Directions
Mix 1.5 rounded teaspoons (6g) with water, juice, or your favourite milk daily.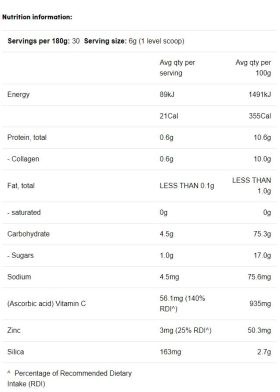 Returns and Refunds
We do not offer a refund, replacement or exchange if you change your mind about a product or products you have purchased from SUPER discount supplements, so please choose what you wish to order carefully and make sure what you purchase is exactly what you need. If you are unhappy with the flavour of a product you have purchased we do not offer a refund or exchange.