White Wolf Nutrition's Super Greens
All natural and organic greens is packed full of vitamins, minerals, antioxidants and amino acids PLUS added Maca Powder.

WheatGrass

Wheatgrass contains minerals, vitamins A, B-complex, C and E. It is extremely high in protein and contains 17 amino acids. It has been shown to assist in removing toxins and heavy metals from the body. In some cases wheatgrass has been used to assist and improve digestion.

Maca Powder

Maca contains selenium, B vitamins, magnesium, calcium, iron, zinc, iodine, essential fatty acids, amino acids, potassium and more. Studies have shown that maca can not only be used as a natural energiser, but also has been shown to increase libido, balance hormones, improve fertility rate, regulate immune response and assist in building muscle.

Spirulina

Spirulina contains an excellent array of naturally occurring vitamins, minerals, trace elements, enzymes and amino acids. Studies have shown evidence of numerous health benefitsfrom increased energy, detoxification, anti-inflammatory and relieving allergies.

Barley Grass

One of the oldest consumed grains, barley grass has numerous benefits, such as; cleansing and detoxifying the body, helps to maintain healthy skin and may stimulate the friendly bacteria in your gut. It is a great source of beta-carotene, pantothenic acid and folic acid, potassium, calcium, iron, phosphorus magnesium and vitamins B1, B2, B6, B12.

Ingredients

Organic Wheat Grass, Organic Maca Powder, Organic Barley Grass, Organic Spirulina, Natural Flavour (tropical and lemon and lime), Organic Stevia, Citric Acid

Directions

Mix 2 teaspoons (10g) with water, juice or your favourite smoothie. Shake for 20 seconds or until smooth.

This product may contain traces of wheat, gluten, soy, egg and milk.

Warnings

Store in a cool dry place away from sunlight.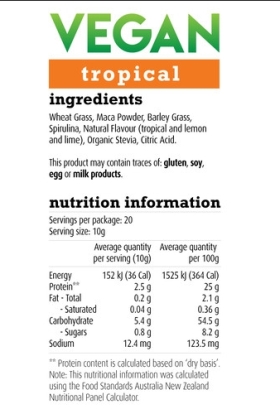 Returns and Refunds
We do not offer a refund, replacement or exchange if you change your mind about a product or products you have purchased from SUPER discount supplements, so please choose what you wish to order carefully and make sure what you purchase is exactly what you need. If you are unhappy with the flavour of a product you have purchased we do not offer a refund or exchange.