HEALTH ADDICTS Tommy`s INCREDIBLE GAINER 1Kg French Vanilla
Product Description
No Artificial Colours
No Artificial Flavours
No Preservatives
No Artificial Sweeteners
No Added Sugar

Tommy's Organic Incredible Gainer is a mix of naturally fermented and isolated rice and pea protein. This protein is suitable for people who want to maintain or build muscle mass with plant based protein, provide extra energy or assist in recovery. We pride our products on being completely
natural and free from anything artificial. The best thing is, this protein is easy to digest and you can enjoy this everyday with the peace of mind that you're looking after your body, the only place you have to live.
Serving Suggestion: Add 2½ scoops of Tommy's Incredible Gainer into 400mL of water or milk. Shake or blend until well combined. Goes well with all types of milk alternatives.
Ingredients: Organic Oat Flour, Organic Brown Rice Protein, Organic Yellow Pea Protein, Natural Vanilla Flavour*, Organic Stevia. (*Non-organic ingredient)
May contain traces of SOY & MILK.
CONTAINS: GLUTEN.
Store in a cool, dry place. Packed in Australia from local and imported ingredients.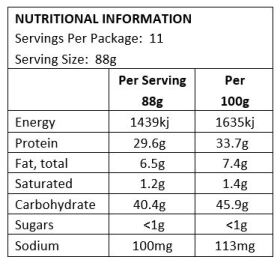 Returns and Refunds
We do not offer a refund, replacement or exchange if you change your mind about a product or products you have purchased from SUPER discount supplements, so please choose what you wish to order carefully and make sure what you purchase is exactly what you need. If you are unhappy with the flavour of a product you have purchased we do not offer a refund or exchange.