Bergamot A major breakthrough in cholesterol management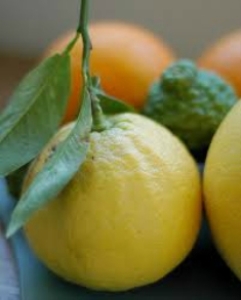 For many years there have been very few therapeutic alternatives to mainstream medications for the management of cholesterol that is until now. Recent research has found the fruit from the humble Citrus Bergamia Risso plant from Italy to be as effective as prescribed medications for lowering cholesterol. So let's take a closer look at this plant and how it may assist in lowering cholesterol.
Bergamot is more than just an essential oil
Bergamot is the common name of the Citrus Bergamia Risso plant. The fruit has a yellow skin and is similar in size to an orange. Although native to south-east Asia, up to 80% of the worlds bergamot is produced in Calabria, southern Italy where is grows extensively. The oil from the peel is used to flavour earl grey tea and 50% of women's perfumes contain bergamot. Aromatherapists use bergamot essential oil to treat a variety of health conditions such as depression and psoriasis. What I am more excited about is the new research showing bergamots ability to reduce cholesterol.
How does Bergamot help to lower cholesterol?
Bergamot has very similar in its actions to statin medications that are prescribed for lowering cholesterol. You may know these medications by their brand names such as Crestor, Lipitor, Zocor and Pravachol. Statin medications reduce cholesterol levels by inhibiting an enzyme called HMG-CoA reductase, which controls LDL (bad) cholesterol production in the liver. Recent studies have shown Bergamot to inhibit this very enzyme, (1,2) leading to suggestions that Bergamot may be as effective as statin medications. In two recent studies (1,2), people took either one or two 500mg doses of Bergamot extract for 30 days.
Results of the studies were
• Bergamot Increased HDL (good) cholesterol by 42%
• Bergamot decreased LDL (bad) cholesterol by 38%
• Bergamot reduced triglycerides by a massive 41%
There were no reported side effects during the 30 day studies. Another interesting finding in these studies was that Bergamot blocked cholesterol absorption in the gut similar to plant sterols found in some types of margarines and avocado.
Bergamot reduces blood sugar too
A study carried out in 2011 reported the effects of bergamot in 237 people with high cholesterol and who also had high blood sugar. Again within 30 days there was a significant reduction in cholesterol and triglycerides but they also found significant reductions (15-25%) in blood sugar. Researchers concluded that Bergamot may be a suitable treatment for not only those suffering from high cholesterol but also high blood sugar. (2)
How much to take
Recommended dose is 1 tablet (500mg) twice a day.
It is noted in one of the studies (2) that patients who were coming off prescribed statin medication took 1 tablet (500mg) 3 times a day. Bergamot extract is proving to be a very exciting breakthrough in the nutritional management of not only high cholesterol but also high blood sugar. It may also be a good option for those people unable to take prescribed statin medications due to side the effects that these medications can occasionally have.
Currently there are a couple of products that are available in Australia. One being Bergamet Mega by Nathealth Solutions and another is Bergamot Cholesterol Care by Natures Sunshine. I have clients getting good results from both of these products.
Cautions
If you are currently on Statin medication it is not recommended that you stop unless advised by your healthcare professional. Stopping this particular type of medication can be dangerous and if you want to try a bergamot extract product be sure to discuss this with your healthcare professional first.
Written by Lea McIntyre - Naturopath - ND BHSc
Lea has had many years of professional experience as a naturopath working with her patients and clients both in her clinic and as a senior retail naturopathic adviser. When Lea is not helping people stay well and enjoy a healthy lifestyle, she is busy caring for and nurturing her two young children.
References
1. leopoldini M, Malaj N, Toscano M,Sindona G, Russo N. On the inhibitor effects of bergamot juice flavonoids binding to the 3-hydroxy-3-methylglutaryl-CoA reductase (HMGR). J Agric Food Chem 2010 Oct 13;58;(19)
2. Mollace V, Sacco I, Janda E, Malara C, Ventrice D, Colica C, Visalli V, Muscoli S, Ragusa S, Muscoli C, Rotiroti D, Romeo F. Hypolipemic and hypoglycaemic activity of bergamot polyphenols: from animal models to human studies Fitoterapia. 2011 Apr;82(3):309-16. doi: 10.1016/j.fitote.2010.10.014. Epub 2010 Nov 4
Tags: general
Tag Links: general,