Fish Oil or Krill Oil which one should you take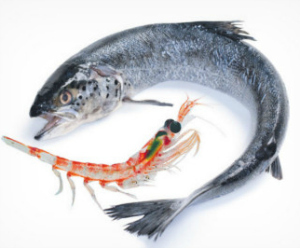 Are you confused about which oil to take fish oil or krill oil, what is the difference and which one is better for you. So let's take a closer look at what these two oils are all about.
Fish Oil
Fish oil is oil derived from the fatty layers of cold water fish. It is a source of Omega 3 fatty acids including eicosapentaenoic acid (EPA) and docosahexaenoic acid (DHA). These 2 Fatty acids EPA and DHA have been well studied and have been clinically proven to assist with many ailments including:
Heart Health
Fish oil may help to maintain healthy cholesterol levels, reducing triglyceride levels and even helping to normalize blood pressure.
Joints and Arthritis
Fish oil is clinically proven to benefit joint health by reducing swelling and improving mobility. The reduction in swelling also leads to a reduction in pain associated with Arthritis.
Brain Health
Fish oil may help to improve cognition and concentration and has been proven to assist with normalising mood swings and irritability.
Pregnancy and Lactation
The DHA fatty acid found in Fish oil is needed during pregnancy and lactation for the healthy growth and development of the baby's brain and eyes.
Krill Oil

Krill oil is derived from tiny crustaceans that live in the Antarctic. Like fish oil, Krill oil is a source of EPA and DHA so essentially offering the same benefits as fish oil. There are 2 differing points to consider when looking at Krill oil versus Fish oil:
Absorption
One big difference between fish and krill oil and that is in the way it is packaged for use to use as a supplement. In fish oil the omega 3 fatty acids are in triglyceride form. In krill oil, they are joined in a phospholipid structure. Because of the phospholipid structure, the omega 3's in krill oil may be more readily absorbed in the body than fish oil. Some manufacturers are quoting the absorption of Krill oil is as much as 60% greater than with fish oil, unfortunately at this stage there are very limited studies to back these claims up.
Higher in Antioxidants
Krill oil is also said to contain a higher concentration of astaxanthin, an antioxidant that comes from the algae krill feed on - Astaxanthin gives krill and other crustaceans like shrimp and lobster their reddish-pink colour.
One report (1) suggests this antioxidant helps lower blood fats and raise HDL (good) cholesterol. It is important to also note here that Salmon is also rich in astaxanthin.
So which one do you choose?
Is krill oil better than fish oil and does it out perform fish oil when it comes to beneficial effects in the body?
It's far too soon to know the answer. There is very little research on the use of omega-3 fatty acids from krill oil and the vast majority of studies have only used fish oil supplements. In saying that, there have been some favourable studies on krill oil and arthritis.
One study (1) showing that a dose of 300mg of Neptune Krill Oil significantly inhibited inflammation and reduced arthritic symptoms in as little as 7 to 14 days.
Other preliminary studies (2) have shown promising results using krill oil to help reduce cholesterol levels and also to assist with premenstrual syndrome but further studies are needed to confirm this.
Summary
If you want to supplement your diet with EPA and DHA, at this stage there's far more research backing and supporting the value and effectiveness of fish oil, however, I'm not saying krill oil isn't worth taking as a means of boosting your omega-3 intake. It's just too soon to know if it has the numerous benefits attributed to omega-3's from fish oil. If you have been using fish oil with little benefit it may be of benefit to try krill oil and monitor the results you get.
How much should you take and in what form?
Fish Oil
Fish oil is available in both capsule and liquid form. The dosage per day will differ depending on what you are taking it for.
For general health the recommended dose is 3 x 1000mg capsules per day.
For rheumatoid arthritis - take fish oil which provides - 3,800mg of EPA and 2,000mg of DHA per day.
For high triglycerides - take 1 to 4 grams per day of fish oil.
For painful menstrual periods - take EPA 1080mg and DHA 720mg.
Krill Oil
As there are very limited studies on krill oil and there is no clinically proven dose. Krill oil is currently available in 300mg, 500mg, 1000mg, 1200mg and 1500mg capsules with most companies recommending a minimum of one capsule per day with dosage dependant up on why are you are taking krill oil.
Want to know more
If you would like to know more about the clinically studied dosages for fish oil they are available at the following link . . . view more research about fish oils
Written by Lea McIntyre - Naturopath - ND BHSc
Lea has had many years of professional experience as a naturopath working with her patients and clients both in her clinic and as a senior retail naturopathic adviser. When Lea is not helping people stay well and enjoy a healthy lifestyle, she is busy caring for and nurturing her two young children.
References
1. Deutsch L, 2007, 'Evaluation of the effect if Neptune Krill Oil on chronic inflammation and arthritis symptoms', J Am Coll Nutr. 2007 Feb; 26 (1):39-48.
2. Bunea R, El Farrah K, Deutsch L, 2004, ' Evaluation of the effects of Neptune Krill Oil in the clinical course of hyperlipidemia' Altern Med Rev. 2004 Dec;9(4):420-8.
2. Vigerust NF, Bjorndal B, Bohov P, NBrattelid T, Svardal A, Berge RK, 2013, 'Krill oi versus fish oil in modulation of inflammation and lipid metabolism in mice transgenic for TNF-a' Eur J Nutr. 2013 Jun;52(4):1315-25.
2. Sampalis F, Bunea R, Pelland MF, Kowalski O, Duguet N, Dupuis S, 2003, 'Evaluation of the effects of Neptune Krill Oil on the management of premenstrual syndrome and dysmenorrhea' Altern Med Rev. 2003 May;8(2):171-9

Tags: general
Tag Links: general,