The Goodness of Green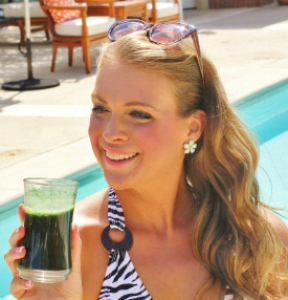 I have always believed that the key to a healthy and happy life starts with good nutrition. It's all about balancing your nutrients and including a variety of fresh foods in your diet. However, sometimes it can be challenging to get all of the important nutrients we need to help us look and feel our best. We get so busy with our daily routine that we don't pay as close attention to what we are putting into our bodies.
I created this E-book full of recipes to show you how simple it is to enjoy the "goodness of green" and to inspire you to take charge of your health.
You deserve to look and feel your very best. These recipes, combined with the Green Nutritionals products from MicrOrganics, will serve as the foundation for you to live an authentically healthy life. Enjoy! That's why I am such a big fan of Green Nutritionals from MicrOrganics. They make a variety of authentically nourishing products that promote optimal health. The best part of their products is that they are easy to incorporate into your diet!
From Yaeyama Chlorella to Green CALCIUM, even the busiest of people can now enjoy the benefits of living with all of the nutrients their bodies where intended to enjoy.
Download the FREE ebook . . . The Goodness of Green
About the author Margaux J Rathbun
Margaux J Rathbun, B.S. N.T.P is a certified Nutritional Therapy Practitioner, International Media Nutritionist, and the Founder of the website Authentic Self Wellness.
Her nutrition tips, articles, and videos have been published in numerous publications around the world including Perez Hilton`s itPerez.com and Perezitos.com, Australia`s Nature and Health Magazine, Shape.com, Yahoo Shine, and The Huffington Post. She has also been featured on celebrity websites including Heidi Klum`s AOL blog, Tyra Banks TypeF.com, and Haylie Duff`s RealGirlsKitchen.com.
Margaux hosts nutrition workshops for natural health food stores, corporations, and non-profit organizations across the world. Her goal is to raise international awareness of the benefits to eating a diet rich in authentically healthy foods and nutrients. She lives outside of Portland,Oregon in the USA.
Tags: General
Tag Links: General,