Heart health and preventing cardiovascular disease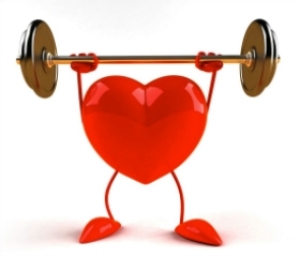 Cardiovascular disease is the leading cause of death in Australia, with over 46,000 deaths attributed to cardiovascular disease yearly. (9)

Did you know cardiovascular disease?

Kills one Australian nearly every 12 minutes
Affects more than 3.7 million Australians
Prevents 1.4 million people from living a full life because of disability caused by the disease
Affects one in five Australians, and two out of three families
They are some scary statistics. Chances are either you or someone you know will be effected from this disease.

So what can be done to prevent cardiovascular disease?
Ensuring you have healthy blood pressure, cholesterol and triglyceride levels is probably one of the best things you can do to keep your heart healthy. Of course eating a healthy diet is paramount but did you know there are several supplements you can take to help keep your heart in great shape; let's check them out.

Magnesium
Every cell in your body depends on magnesium to function. This includes your teeth, bones, hormones, nervous system and your heart. The highest concentrations of magnesium in your body are actually in your heart and your brain, which is why a deficiency can actually be deadly.
Magnesium has been shown to help heart health in many ways such as

Lowering blood pressure (2)
Reducing the risk of stroke(6)
Helping to regulate heart rhythm making it good for arrhythmias (6)
Naturally thinning the blood and in doing so helping circulation
Helping to protect the blood vessels from plaques (6)
Magnesium deficiency is very common these days with up to 90% of Magnesium being removed from refined grains during processing. Eating wholegrain foods can ensure you get more magnesium in your diet, this is important as most Australians don't get the amount of magnesium the body requires on a daily basis.
If you are at risk of developing cardiovascular disease it may be beneficial for you to try a magnesium supplement. I recommend an organically bound magnesium supplement such as magnesium gluconate, citrate, or amino acid chelate.
Dosage can start at 150mg once or twice a day or as directed by your health care practitioner.

Co Enzyme Q10
Coenzyme Q-10 (CoQ-10) is a vitamin-like substance found throughout the body, especially in the cells of the heart, liver, kidneys, and pancreas. It is involved in generating energy, cell respiration and cell transport. It occurs naturally (in small amounts) in meats and seafood, but can also be made in a laboratory for medicinal and supplementation purposes.

Research indicates that Coenzyme Q-10 supplementation may

Reduce blood pressure enough that people taking medication for hypertension can decrease or discontinue their dosage (under a doctor`s care, of course). (3)
Reduce the risk of heart disease complications when started within 72 hours of having a heart attack and taken for one year. (3)
Help treat congestive heart failure when taken in combination with other heart failure medications and treatments. (4)
Help to regulate abnormal heart rhythms. (3)
Inhibit blood clot formation (3)
Improve exercise tolerance in patients with chest pain (angina). (3)
Help prevent the muscle pains and liver damage often experience by people using statin drugs
In Australia there are 2 forms of CoQ10; ubiquinone and ubiquinol available. Ubiquinone which has been around for many years now, it is available in many different strengths ranging from 50mg up to 150 mg. More recently Ubiquinol has become available on the Australian market, Ubiquinol is the active form of CoQ10 and may be a preferred choice for those with active cardiovascular disease. Ubiquinol is available in 100mg and 150mg strengths.

Fish Oil
Fish Oil contains the highest amount of Omega-3 Fatty Acids and Omega-3 fatty acids benefit the heart of healthy people, and those at high risk of or who have cardiovascular disease.
Research has shown that omega-3 fatty acids help to

Decrease risk of arrhythmias (abnormal heartbeats), which can lead to sudden death
Decrease triglyceride levels by 20-50% (7)
Slow growth rate of atherosclerotic plaque
Lower blood pressure. (2)
Increase 'HDL; the body's good cholesterol
Prevent clot formation (7)
Improve systemic inflammation
Frequent supplementation may reduce angina attacks (7)

Fish oil is a fantastic supplement and is not only beneficial for heart health. Fish oil is beneficial for brain function, eyes, skin, arthritis and many other conditions. If you are vegan and do not want to take fish oil, there are many non-animal sources of omega 3 fatty acid available just ensure you get the right amount of EPA and DHA to benefit heart health.
The recommended dosage for Fish oil 1 to 4 grams daily (with 240 milligrams of DHA and 360 milligrams of EPA per gram) is fairly typical, but the prescribed dosage will vary depending on your heart health and lipid profile.
So be sure to check with your health care practitioner for the right dosage for you. (1)

B Vitamins
There are several B vitamins that are highly beneficial for heart health namely Niacin (B3), Folic Acid (B9), Pyridoxine (B6) and cyanocobalamin (B12).
The combination of folic acid, vitamin B6 and vitamin B12 reduces harmful homocysteine levels. High levels of homocysteine are related to the early development of heart and blood vessel disease. In fact, an elevated level is considered an independent risk factor for heart disease.
Niacin, also known as vitamin B3, is naturally involved in carbohydrate and fat (lipid) metabolism. In supplemental doses, niacin is a potent vasodilator that causes blood vessels to increase in diameter. Niacin also significantly and consistently lowers blood levels of 'bad' LDL cholesterol and triglycerides and increases 'good' HDL cholesterol. (8)
Effective doses can be achieved with 50-200 mg per day. Some people do get hot flushes from niacin, so it`s important to start with small doses and increase slowly, under supervision of your health care practitioner.

Hawthorn
Flowers and berries of the hawthorn plant contain several bioactive compounds and have been used in traditional medicine to treat a variety of cardiovascular conditions.

Hawthorn is beneficial for heart health in many ways
Hawthorn has a relaxing effect on the arteries, in turn improving circulation that facilitates healthy blood pressure. (2)
Hawthorn has been shown to enhance the flow of blood through the heart (5)
Hawthorn helps the heart beat tone up (inotropic effect). In fact, hawthorn was found to be far friendlier and more energy efficient as it helps the heart muscle contract to produce an effective beat, compared to drugs that seek to do the same thing
Some studies show hawthorn beneficial for atherosclerosis and high cholesterol but further research is needed in this area. (5)

As you can see natural supplements have a lot to offer when it comes to heart health.
Supplements can be used as prevention and also as a treatment for many cardiovascular diseases. It is however important to get yourself checked out by a medical practitioner before taking any supplements for heart, especially if you currently suffer any cardiac ailments.
Be sure to check with your healthcare practitioner which product and dosage is the right one for you.
Written by Lea McIntyre - Naturopath - ND BHSc
Lea has had many years of professional experience as a naturopath working with her patients and clients both in her clinic and as a senior retail naturopathic adviser. When Lea is not helping people stay well and enjoy a healthy lifestyle, she is busy caring for and nurturing her two young children.

References
1. http://www.nlm.nih.gov/medlineplus/druginfo/natural/993.html accessed 5/7/2014

2. National Heart, Lung and Blood Institute. "Your Guide to Lowering Your Blood Pressure with DASH," (PDF) accessed March 2011. http://www.nhlbi.nih.gov.

3. http://www.nlm.nih.gov/medlineplus/druginfo/natural/938.html accessed 5/7/2014

4. ARYA Atheroscler. 2014 Jan;10(1):1-5.Combination of atorvastatin/coenzyme Q10 as adjunctive treatment in congestive heart failure: A double-blind randomized placebo-controlled clinical trial.Pourmoghaddas M1, Rabbani M2, Shahabi J3, Garakyaraghi M4, Khanjani R2, Hedayat P

5. Effect of crataegus usage in cardiovascular disease prevention: an evidence-based approach.Wang J, Xiong X, Feng B. Evid Based Complement Alternat Med. 2013;2013:149363. doi: 10.1155/2013/149363. Epub 2013 Dec 29

6. Role of magnesium in cardiovascular diseases.Kolte D, Vijayaraghavan K, Khera S, Sica DA, Frishman WH. Cardiol Rev. 2014 Jul-Aug;22(4):182-92

7. Fatty acids and cardiac disease: fuel carrying a message.van Bilsen M, Planavila A. Acta Physiol (Oxf). 2014 Jul;211(3):476-90

8. Ldl And Hdl Subfractions, Dysfunctional Hdl: Treatment Options. Ríos AG, Nikolic D, Perez-Martinez P, Lopez-Miranda J, Rizzo M, Hoogeveen RC. Curr Pharm Des. 2014 Jun 20}

9. http://www.aihw.gov.au/publication-detail/?id=10737418510 accessed 5/7/2014
Tags: General
Tag Links: General,