Optimum Nutrition 100% Gold Whey Natural
Whey protein Isolates are 90% pure protein by weight.
They are the purest and most expensive form of whey protein that exists. That's why they are the first ingredients you read on the 100% Natural Whey Gold Standard label. By using Whey Protein Isolates as our primary protein source, we're able to pack 24 grams of the purest, muscle-building protein per serving, with a lot less of the fat, cholesterol, lactose, and other stuff that you can do without.
What's more, 100% Natural Whey Gold Standard contains no artificial flavours, colours, or sweeteners. There's no question this is the standard by which other whey proteins are measured.
Beyond The Basics
No Artificial Flavours, Sweeteners, or Colors
Whey Isolates are the primary protein source
Higher Pure Protein Percentage
Fast-Acting HYDROWHEY Whey Peptides
Provides Whey Protein Microfractions
More than 5 grams of BCAAs
Over 4 grams of Glutamine & Precursors
Instantized to Mix with a Spoon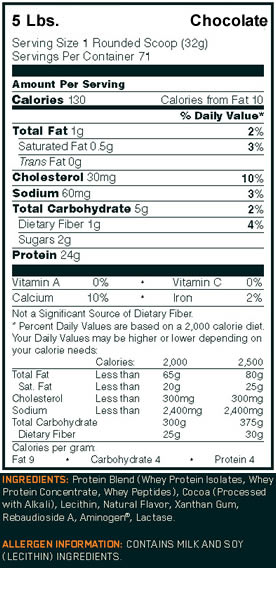 Returns and Refunds
We do not offer a refund, replacement or exchange if you change your mind about a product or products you have purchased from SUPER discount supplements, so please choose what you wish to order carefully and make sure what you purchase is exactly what you need. If you are unhappy with the flavour of a product you have purchased we do not offer a refund or exchange.