Nuzest Good Green Stuff
Nuzest Good Green Stuff is real food as nature intended. Your complete daily nutritional support in one easy serve.
A great-tasting superblend of nutrient-rich greens, fruits, vegetables and berries, Nuzest Good Green Stuff is real food as nature intended. To help keep the insides happy, they added probiotics, digestive enzymes and helpful herbs and extra vitamins, minerals, and antioxidants.
With over 70 ingredients, Nuzest Good Green Stuff is a superblend of all your essential nutrients in one place. It takes away the guesswork.
The real power of Nuzest Good Green Stuff is in its high concentration of fruits, berries, vegetables, green algae, and herbs - a potent blend of nutrient-rich and high antioxidant superfoods.
Nuzest Good Green Stuff contains the antioxidant equivalent of 8 - 10 servings of fruits and vegetables in one serve and it's cold blended so that enzymes and heat sensitive nutrients remain intact
As a powder dissolved in liquid, Nuzest Good Green Stuff is easier for your body to digest and absorb than tablets and capsules. It's also the most practical way to ensure a useful serving.
Nuzest Good Green Stuff contains prebiotics, probiotics and enzymes to aid digestion and ingredients to support your detox organs. Plus adaptogenic herbs to help recharge the adrenal glands and help deal with stress.
Even tiny improvements in the acid-alkaline balance are important to your well-being. The concentration of raw green superfoods gives Good Green Stuff an alkaline pH. And, it is fortified with minerals such as calcium and potassium which your body uses to combat acidity.
Nuzest Good Green Stuff contains herbs and ingredients traditionally used to support the nervous system and help keep the mind in good shape.
Nuzest Good Green Stuff does not replace a healthy diet but it does help meet the challenges of environmental toxins, nutrient depleted soils, processed foods, fast foods, excess alcohol, fast-paced lifestyle and missed meals.
Athletes, mums, fussy teenagers, busy executives and older people can benefit from their daily serve of Nuzest Good Green Stuff. It is perfect for vegans and vegetarians. Suitable for allergy sufferers and coeliacs.
Nuzest Good Green Stuff is blended in a GMP-certified facility that is registered and audited by the New Zealand Ministry of Health. Every ingredient is certified, and after blending every batch is tested for safe microbial activity, by an independent laboratory, before the batch is released.
Nuzest Good Green Stuff contains no Genetically Modified Organisms (GMO), Egg, Wheat, Gluten, Dairy, Corn, added Salt, Yeast, Peanuts or Animal Products, Lactose, Sucrose, Dextrose or other added sugars, Artificial Colours, Flavours, Preservatives or Sweeteners, Herbicides, Pesticides or Synthetic Chemicals.
Ingredients:
Fruits, veggies, vitamins, minerals, probiotics, protein, digestive enzymes, greens, herbs, antioxiants, berries and prebiotics
Dosage:
Dissolve two heaped teaspoons into 250-300mls of non-acidic juice, your favourite milk,or just water. You can blend in fresh fruits for a delicious smoothie.
Note - Not suitable for children under the age of 5 years. Contains Vitamin K and those taking warfarin should seek medical advice before starting consumption.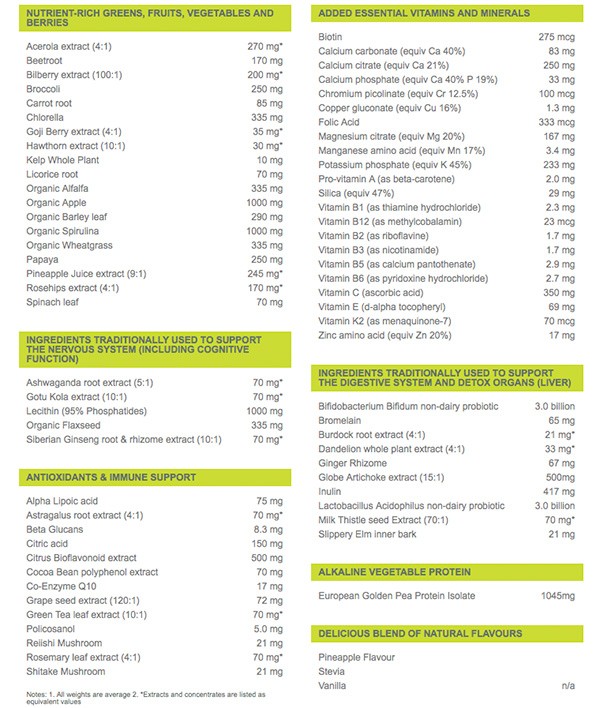 Returns and Refunds
We do not offer a refund, replacement or exchange if you change your mind about a product or products you have purchased from SUPER discount supplements, so please choose what you wish to order carefully and make sure what you purchase is exactly what you need. If you are unhappy with the flavour of a product you have purchased we do not offer a refund or exchange.