Nutra-Life Ester C Plus Bioflavonoids
Ester-C is a researched form of Vitamin C that supports immune system health. Ester-C® may lead to a more sustained retention of Vitamin C in the white blood cells than ascorbic acid in non smokers. It is a non-acidic form of Vitamin C and may be better tolerated than standard Vitamin C in people who are sensitive to acidic foods. Vitamin C is essential for the proper function of the immune system and decreases the duration and severity of common cold symptoms when taken regularly.
DOSAGE
Adults and children over 12 years: Take 1 tablet 3 times daily, or as directed by your healthcare professional.
INGREDIENTS
Each tablet provides: Ester-C® 1000mg [Calcium ascorbate dihydrate 977mg Equiv. Ascorbic Acid (Vitamin C) 806.78mg, Calcium L-threonate 12mg, Calcium carbonate 11mg], Citrus bioflavonoids extract 100mg Equiv. Hesperidin 35mg
FORMULATED WITHOUT
Formulated without: Gluten, wheat, animal products, dairy products, egg, soy, corn, artificial colours, artificial flavours, artificial sweeteners or preservatives. Always read the label. Follow the directions for use. If symptoms persist, worsen or change unexpectedly, talk to your health professional.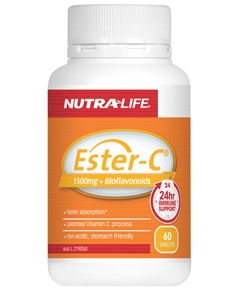 Returns and Refunds
We do not offer a refund, replacement or exchange if you change your mind about a product or products you have purchased from SUPER discount supplements, so please choose what you wish to order carefully and make sure what you purchase is exactly what you need. If you are unhappy with the flavour of a product you have purchased we do not offer a refund or exchange.