Herbs of Gold Probiotic 55 Billion
Probiotic 55 Billion is a high-strength, broad-spectrum 11 strain probiotic formula with 55 billion CFU in each capsule. Probiotics are sourced from scientifically studied Danisco strains which utilise patented, stabilisation technology ensuring the probiotic strains are room-stable and do not require refrigeration. Probiotic 55 Billion strains are able to survive stomach acid and bile salts and have good adherence to the intestinal wall, allowing the probiotics to prolong contact time and interact with the immune system and limit the ability of pathogens to colonise and flourish.
Probiotic 55 Billion:
• Contains 10 bacterial strains plus 1 yeast strain with probiotic activity to improve microbiome diversity and symbiotic relationships
• Supports, maintains and balances healthy digestive function
• Helps relieve common digestive complaints such as abdominal pain, bloating, nausea, flatulence, constipation, diarrhoea, irregular bowels, yeast infections, regurgitation and gurgling
• Maintains healthy, balanced composition of intestinal flora
• Strains chosen show resistance to certain antibiotics, beneficial when taken in conjunction with antibiotic therapy
• Maintains normal healthy immune system function and helps maintain a healthy response to allergens
• Supports healthy digestive barrier function
• Decreases intestinal inflammation
• Inhibits bacterial toxins
• Helps reduce the risk of upper respiratory tract infections (URTI's)
• Dairy free
• Vegetarian and vegan friendly
• One-a day
WARNINGS
Vitamin supplements should not replace a balanced diet.
If symptoms persist consult your healthcare practitioner.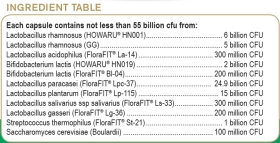 Returns and Refunds
We do not offer a refund, replacement or exchange if you change your mind about a product or products you have purchased from SUPER discount supplements, so please choose what you wish to order carefully and make sure what you purchase is exactly what you need. If you are unhappy with the flavour of a product you have purchased we do not offer a refund or exchange.