Gelpro Australia Peptipro Beef Gelatin
Gelatin that "gels" together
This is a premium grade Australian Beef Gelatin. It is unflavoured and has superior bioavailability, sourced from only the best Australian beef cattle hides and skin. Australia has long been known for producing the best beef cattle with our open green pastures allowing our cattle to roam freely and feed on grass. Australia`s strict quality standards ensures only the best beef is produced. A product we can be proud of.
No Fat
No Carbs
No Sugar
Lactose Free
88% Pure Protein
Australian Beef Gelatin
Collagen is an important protein source for muscle and cell growth. Peptipro is rapidly absorbed, ensuring you get the necessary amino acids as and when your body needs them - before or after your workout.
Peptipro is unflavoured and mixes well in warm, cold or hot water. This gelatin congeals so you can make desserts, Jell-O or tasty, healthy treats like lemon gummies. No more gritty taste like other proteins and finally no more bloating from whey based proteins.
When you take collagen you are taking an important protein that is necessary for the growth of many different cells within the body. This is why gelatin based supplements will give you the results you have been craving.
Everyone wants to stop the signs of aging, keep their skin in the best condition possible, and ensure that their skin snaps back into place when they lose weight. Thanks to collagen boosting supplements this is completely possible. Upon ingesting our unflavored mix your body is able to utilise the basic building blocks that it needs and can use them to supplement collagen production all over your body.
We have selected a premium grade Australian Beef Gelatin and utilise sustainable practices, ensuring only the most premium product is produced..
Recommended usage is 1 level tablespoon before or during breakfast, and one before or during dinner.
Wishing you good health.
Directions
Room temperature liquids
Pour one tablespoon into a glass of your favorite juice or drink. Allow to settle for one minute while stirring, then drink immediately.
For Hot liquids
Add one tablespoon to small amount of cold liquid for one minute, then add hot liquid and stir until dissolved.
You can also add to a bowl of hot or cold cereal and mix completely.
Two teaspoons gel 500ml of liquid
Best taken first thing in the morning and/or 20min before bed (preferably 2hrs after your last meal)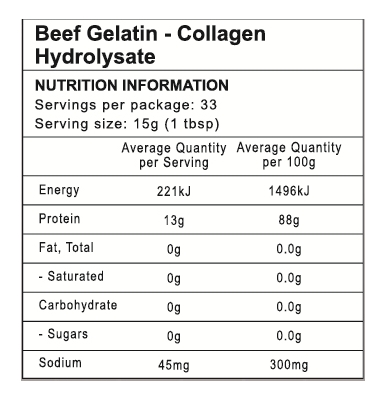 Returns and Refunds
We do not offer a refund, replacement or exchange if you change your mind about a product or products you have purchased from SUPER discount supplements, so please choose what you wish to order carefully and make sure what you purchase is exactly what you need. If you are unhappy with the flavour of a product you have purchased we do not offer a refund or exchange.