Eden Health Foods Ultimate Protein
Mix & Match Flavours by nominating in the Instruction Panel.
This is a certified organic sprouted brown rice protein powder that is 100 % and easily digested.
Key Points
98.2 % Assimilation means Ultimate absorption.
80 % Protein with a perfect balanced amino acid profile and over 27g of protein per serve.
100 % raw highly digestible protein content is intact and not denatured or destroyed in any way.
Sprouted and Bio-Fermented equals increased bio-availability and digestibility.
Certified Organic means NO chemicals, herbicides, pesticides or anything artificial.
Non-GMO, Gluten free, Allergen free, Wheat free, Dairy free, Lactose free Soy free.
No Cholesterol, no added sugar, no added colours.
Weather you are a vegan, vegetarian, body-building, athlete or active person, this constant release, highly quality 100 % plant-based protein is the Ultimate Protein for your body in every way brought to you be Eden Health Food.
Ingredients
Certified organic sprouted biofermented raw wholegrain brown rice protein.
All ingredients used are certified organic and processed using cold milling techniques.
Key Benefits
Organic Ingredients
GMO Free
Gluten Free
Dairy Free
Suitable for Vegetarians and Vegans
Processed using cold milling techniques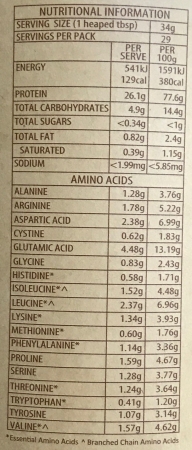 Returns and Refunds
We do not offer a refund, replacement or exchange if you change your mind about a product or products you have purchased from SUPER discount supplements, so please choose what you wish to order carefully and make sure what you purchase is exactly what you need. If you are unhappy with the flavour of a product you have purchased we do not offer a refund or exchange.