ATP Science Noway Protein
ATP Science Noway Protein is a specific combination of bioactive dietary peptide from hydrolysed bovine collagen. It is made using a unique process recreating a digestive process with specific acids and enzymes capable of making a specific functioning blend. Every batch is tested to confirm the presence and activity of the specific peptides to ensure efficacy and consistency.
Key Points
• Collagen is the most abundant protein in humans.
• Excellent bioavailability and bio-efficacy
• Acid: base balance - alkalizing protein NOT alkaline protein
• Unique amino acid profile
• muscle hypertrophy - mTOR and PAX7 activation
• fat loss - AMP-K activation
• Enhanced strength and performance
• Enhanced collagen production for more power and less pain

The science behind this protein in proven:
• Proper training can build muscle
• Proper training with adequate macros (food, whey, vegetable protein, IIFYM) improves your results from training
• making 15 grams of part of your daily protein allocation amplifies these results significantly
• Studies show compared to placebo: 3 x more muscle growth than whey, 2.5 x more fat loss than whey and 3.75 x more power than whey

Directions
Mix 1 heaped scoop in 250ml of cold water in a shaker or blender. Can be mixed in with your favourite smoothie, added to pancakes or in baked goods.

Dairy Free, Gluten Free, GMO Free, No Synthetics, All Natural and has less than 0.01g Sugar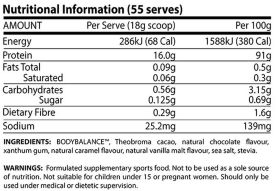 Returns and Refunds
We do not offer a refund, replacement or exchange if you change your mind about a product or products you have purchased from SUPER discount supplements, so please choose what you wish to order carefully and make sure what you purchase is exactly what you need. If you are unhappy with the flavour of a product you have purchased we do not offer a refund or exchange.