Amazonia Raw Protein Isolate Choc Coconut
Contains a complete amino acid profile plus Zinc, Phosphorous and up to 99% RDI Iron, formulated with certified organic sprouted and fermented plant protein for optimal digestion.
This delicious golden pea and brown rice protein blend supports lean muscle repair and growth and is gentle on digestion with highly bioavailable plant-based digestive enzymes.
Ingredients:
Organic Sprouted & Fermented Golden Pea Protein*, Organic Sprouted Brown Rice Protein*, Organic Cocoa*, Organic Pea Fibre*, Natural Flavours, Organic Acacia Gum*, Organic Stevia Leaf Extract*, Digestive Enzyme (Bromelain). *Certified Organic
DIRECTIONS:
Blend 3 rounded tablespoons (30g), or higher dose as required, into 300ml of water, non-dairy milk or coconut water. For children (12-17), take half the adult serve.
Protein supplementation can be of benefit when used in conjunction with physical activity. Diets high in protein increase the body`s need for water. Please ensure adequate daily water intake. If you are pregnant, breastfeeding or taking medication, please consult your healthcare professional before using.
**Based on a female's daily RDI.
Store below 25°C in a cool, dry and dark place.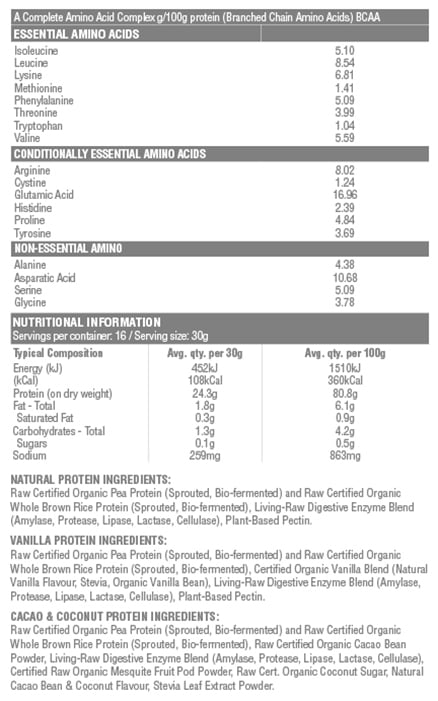 Returns and Refunds
We do not offer a refund, replacement or exchange if you change your mind about a product or products you have purchased from SUPER discount supplements, so please choose what you wish to order carefully and make sure what you purchase is exactly what you need. If you are unhappy with the flavour of a product you have purchased we do not offer a refund or exchange.